Worship With Us
Below Are Our Chronicles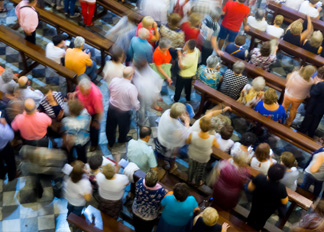 Sunday Worship Services
Every Sunday at 9:00 a.m.we gather around music, word, and sacrament to celebrate a God who is with us and for us. Cana's Sunday worship experience is adaptable, hopeful, and transformational. At the core of our worship experience is the liberating Good News that God values all, and all people have value. We celebrate Holy Communion every Sunday.
Our God is a relational God and desires to have a relationship with each and every person. The communion table at Cana is open to all people. The communion table is the only table in the world that has no restrictions. There is a table set for us and all creation.
Our Summer Service is from May 28 through Labor Day weekend, September 3. The service begins at 10 am and lasts approximately one hour.
---
Kids Rock Children's Ministry Teen Talk
KidsRock - Pre-K through 5th Grade
Sundays 10:15 - 10:50 am Meets downstairs
Teen Talk is for those young people from 6-12th grades and meets in the Youth Room also on Sundays from 10:15 - 10:50 am.
Our teachers create an exciting space for children grow their relationship with God through age appropriate bible stories and activities that engage and encourage participation in this "Sunday School" style program. Our mission is to provide a sound Biblical foundation for teaching our children how to worship God, learn his word, apply it to their life, and be open to receiving the love of Christ.
---
Tuesday Small Group Study - Not meeting due to COVID-19
Class meets every Tuesday at 10am
Join with us for our small group study that meets from 10-11 a.m. on Tuesday mornings. We share life events, discuss Bible passages and review books relevant to our faith and lives.
---
Midweek Family Service
WHIRL
5:45 pm
at Greenfield Presbyterian Church
Wednesdays 5:45 – 7:30pm
Cost: Free
Sept – Dec held at Greenfield Presbyterian
Jan – June held at Cana Lutheran
If you are looking for an engaging and holistic approach to faith formation, join us Wednesday evenings for Whirl Worship. Through Whirl, families can begin their Christian faith journey in a community that is inclusive of all people with programming that is age appropriate. Our program helps parents spend quality time with their children by offering a free meal, opportunities for open communication and support, as well as inspirational devotions and communion.
As a partnership between Cana and Greenfield Presbyterian, this program is structured to be the primary weekly worship opportunity for its participants. Whirl Worship is committed to inclusivity, space for questions, and opportunities to positively impact our neighborhood. Nursery care is provided for younger children.