Youth Programs
S.T.A.G.E. Youth Ministry
STAGE1- Middle School
Meets Sundays 4:30 PM
STAGE 2-High School
Meets Sundays 6:30 PM
Dinner Party at 6PM for all STAGE Participants
---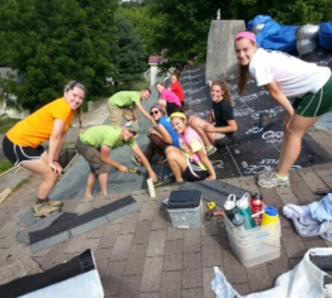 Somewhere to Ask God Everything
STAGE is a shared ecumenical youth program formed by Presbyterian, Lutheran, and Methodist churches in Berkley and Royal Oak. STAGE, which stands for "Somewhere To Ask God Everything", was formed in 1999 and is a youth ministry shaped around FUN, SERVICE, COMMUNITY, and FAITH. STAGE's mission is to share the love of Jesus Christ with all middle and high-school youth so they may experience God's love, develop healthy relationships, praise God, grow in faith, and learn to serve others.
A typical Sunday night meeting takes place at Cana Lutheran, the church next to Berkley High School. At regular meetings we play games, discuss relevant topics, do group challenges and activities, and try to grow into the loving and accepting community God calls us to be.
Special events such as Lock-Ins, Service Projects, Retreats, and more build on our goals of having FUN, doing SERVICE, being a loving COMMUNITY, and growing in FAITH.
See Our Full Calendar of Youth Group Happenings
STAGE IS SPONSORED BY:
Greenfield Presbyterian Church, Cana Lutheran Church, Good Shepherd Lutheran Church, Berkley First Methodist Church
Connect with STAGE Youth Ministry
---
F.R.O.G. Middle School Outreach
5th -8th Grade
Last week in June
Do you have a 5th – 8th grader ready to develop a relationship with God? FROG week is a great way to introduce him or her into our STAGE Youth Ministry program. FROG stands for Friends Reaching Out for God and this exciting week of service is all about learning to develop healthy relationships, learning to serve others, and learning about what our STAGE program has to offer.
The week starts out with a community service project and fun activities, followed by an overnight camp out that ends the week. Participation involves a small fee, a willingness to get dirty and the desire to play hard.
For information on this year's event, contact Nathan at stageyouth@gmail.com or 517-410-5147.
Meet Nathan Schleicher: STAGE Director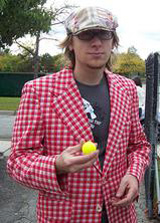 Since his college summers at camp Michi-Lu-Ca, Nathan has been working with youth to help build their relationships with each other and with God. His position as STAGE Director is a role that gives him the opportunity to creatively work with an amazing group of youth & young adults as well as a troop of volunteers and community families.
Nathan has also been a song-writer and music leader for about 15 years. During that time he has released several albums, led worship workshops at churches across the country, and has been asked to design and lead worships at National Youth Gatherings, The Michigan Gatherings, and many other festivals and events.
Nathan is married and has a toddler who takes joy in keeping him tired and/or late. He enjoys unique restaurants, hot coffee, and discovering new music. He regularly volunteers with the Greening of Detroit, the Ann Arbor Hands-On Museum, and MiSci in Detroit. In his spare time (ha!) his formal background in industrial design often leads him to working on graphics or exhibit spaces for local non-profits and museums.